Administrative and Teaching Faculty
Head of School: Ginie Wong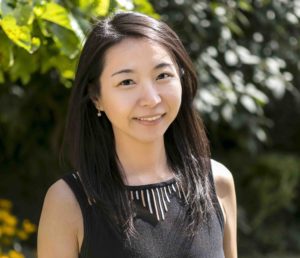 Ginie Wong, BSc, BEd, OCT
gwong@fieldstonekcschool.org +1 (416) 487-7381 extension 230
Ms. Ginie Wong started her career at Fieldstone twenty years ago.  She worked with both international and local students as a teacher.  She then became the International Student Coordinator and was promoted to the position of Vice Principal and then Principal.  After being the high school Principal for a number of years, she has recently been asked to take on the role of Director of Business Development.  Ms. Wong is a believer of lifelong learning and private school education as she herself was cultivated in the private school educational system from kindergarten to high school. Ms. Wong has earned the following credentials:  Bachelor of Science, Bachelor of Education, Private School Principal Certification. As mentioned earlier, she deeply believes in lifelong learning.  Master of Business Administration (MBA) is underway and she is very excited about it!
Assistant Head of School: Leanne Martin
Leanne Martin
lmartin@fieldstonedayschool.org +1 (416) 487-7381 extension 227
Ms. Leanne Martin has been teaching at Fieldstone Day School since September 2004 and she joined the administration team in July 2018. She will always remember her Grade One teacher as being the inspiration for her becoming a teacher herself, and she is forever indebted to her mother for her unwavering support as she pursued her dream to be in the profession of teaching. For her post-secondary education, Leanne went to York University for four years, where she obtained an Honours Bachelor of Arts in Women's Studies. In 2002, she spread her wings and went to Queen's University where she obtained a Bachelor of Education in the Primary / Junior Division. In her free time, Leanne enjoys going for walks, watching movies, and spending time with her family and friends.
Assistant Head of School: Brian Munshaw
Brian Munshaw 
bmunshaw@fieldstonekcschool.org +1 (416) 487-1989 extension 412
Mr. Brian Munshaw started as a summer school science teacher at Fieldstone in the Summer of 2013. He joined the team full-time in September 2013 as a senior science and maths teacher. Since then, Brian has worked in a variety of roles from Guidance Counsellor to his current role of Assistant Head of School and Academic and Cambridge Programme Coordinator. 
Prior to joining Fieldstone, Brian studied at The University of Western Ontario in London, Ontario earning a Master of Science (Biochemistry), Honours Bachelor of Medical Sciences (Microbiology and Immunology) and a Bachelor of Education (Intermediate and Senior Chemistry and Biology). Brian is currently studying the Principal's Qualification Programme at York University and has completed his Part 1 of 2 as of October 2018.
Admissions: Sue Johnson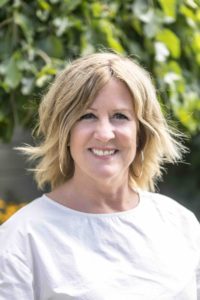 Sue Johnson, BA, BEd, OCT
sjohnson@fieldstonedayschool.org +1 (416) 487-7381 extension 227
Sue Johnson graduated with a BAH in psychology from McMaster University and a B.Ed from Queens University. She has been working in education for over 30 years. Her love of children and learning inspired her to become a teacher and pursue a lifelong career in education. She began her career at Havergal College under the mentorship of Dorothy Lancaster, the principal, who shared with her the importance of not only enriching the intelligence of a child but nurturing their spirit as well. Sue has worked at Fieldstone Day school for 18 years and has seen the student population grow from 8 students to 180 students.
Managing Director, Admissions and International Programs: Kristine Foy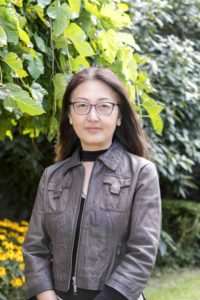 Kristine Foy, B.A., M.A.T., RECE
kfoy@fieldstonekcschool.org +1 (416)-992-0187 extension 249
Kristine holds a Master degree in Teaching from Fairleigh Dickinson University in New Jersey, USA.  She came to Canada in 1995 with her spouse and young son.  She is also a Registered Early Childhood Educator with Ontario College of Early Childhood Educators with a post-graduate diploma in ECE from Sheridan College.  Before joining Fieldstone this September, Kristine has worked in both private and public education sectors for more than a decade.  Her passion in education spans from early years learning to higher education and her quest for knowledge has led her to pursue and be accepted into the Master Degree of Professional Education in International Education at Western University (2017).
During her spare time, Kristine enjoys family life with her husband, son, daughter and a Pomeranian.   She is a proud mother of her son who studies Neuroscience at Brock Univ. in his final year and her daughter who is a young talent in film directing and production at age 15.
Fieldstone School Communications Coordinator: Stephanie Long
Stephanie Long, B.Ed, M.Ed, OCT
slong@fieldstonekcschool.org +1 (416) 487-7381 extension 310
Ms. Stephanie Long has been with Fieldstone for nine years- first as a teacher and now as FKCS Vice Principal and Communications Coordinator. She has enjoyed watching Fieldstone grow and evolve as a school and feels at home in this vibrant and multifaceted learning environment.
Stephanie studied Communications Theory at the University of Toronto. Driven by a love of teaching and working with youth, she then obtained her Masters in Creative Arts Education from Exeter University in the UK and spent time teaching in England. After an enriching experience in the UK, Stephanie returned to her favourite city (Toronto) to complete her Bachelors of Education and to train to teach here in Canada. Stephanie thoroughly enjoys overseeing school communications at Fieldstone, as well as working with the wonderful and dedicated student community.
Bursar: Monica Park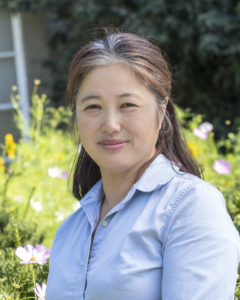 Monica Park
mpark@fieldstonekcschool.org +1 (416) 487-7381 extension 235
Academic Data Management: Hala Hussein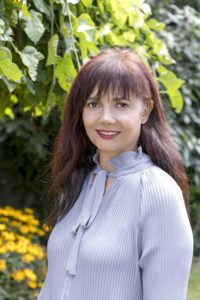 Hala Hussein, BA
hhussein@fieldstonekcschool.org +1 (416) 487-7381 extension 228
Originally from Egypt, Hala moved to Toronto in 1999 and has been working at Fieldstone for 16 years. She received her Bachelor of Arts (French Language and Literature) from Alexandria University.  She speaks Arabic and French. In her spare time, she enjoys reading, listening to music (Pink Floyd), traveling and taking pictures.
Librarian and International Admissions Coordinator: Lisa Akita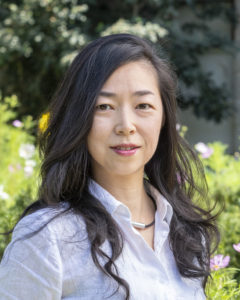 Lisa Akita
lakita@fieldstonekcschool.org +1 (416) 487-7381 extension 221 
Lisa was born and raised in Japan, and graduated from dental college becoming a dental hygienist in Japan. Afterwards, Lisa practiced dentistry until she moved to Canada. Once Lisa settled in Toronto, she started to work for a Canadian company as a secretary. After few years, Lisa was offered a position with a Canadian broadcasting company and she decided to take on a physical new challenge by joining them. At the broadcasting company, Lisa was hired as a TV reporter for the multicultural program and she shared interesting local stories with the Japanese community in Toronto. Because of this experience, she started to be involved in the community more and more and it made her think of the importance of multicultural world here in Toronto. After a while, Lisa was hired by a Japanese publishing company that publishes magazines and guidebooks for Japanese locals and visitors in Toronto. Lisa has written several stories, created articles and learned many beautiful things about Toronto. Lisa works at Fieldstone and supports students at the library and also helps with international students' admissions.
Admissions Coordinator: Melany Butcher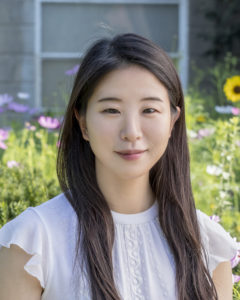 Melany Butcher, HBA
mbutcher@fieldstonekcschool.org   +1 (416) 487-7381 extension 248
Melany Butcher was born in Daegu, South Korea and came to Toronto when she was 12 years old. She studied Digital Enterprise Management (DEM), which is a specialist program offered through the University of Toronto Mississauga.
International Student Liason Officer: Krystal Zhang
Krystal Zhang
kzhang@fieldstonekcschool.org +1 (416) 487-7381 extension 229
Receptionist: Tami Ellis
Tami Ellis +1 (416) 487-7381 extension 229
Tami Ellis was born and raised in Toronto. She holds a bachelor's degree in Anthropology and Law and Society. Her passion is working with children and youth. She has worked closely with students across the globe. She enjoys learning about new cultures and giving opportunities for students to experience Canada. Tami has also provided amazing host families for international students, which has created lifelong bonds and unforgettable memories of their stay in Canada. 
Kindergarten: Iris Esquivel
Originally from Montreal, Quebec, Iris received a Diploma of College Studies (DEC) in Child Studies from Dawson College and a Bachelor's Degree in Elementary Education from McGill University. She has had various teaching experiences in her native city as well as in sunny Los Angeles, California, including instruction in Fine Arts and Drama. She also spent a summer as a private ESL language instructor in Madrid, Spain, and worked as an English tutor and yoga teacher in Santiago, Chile. Iris is fascinated with life and loves sharing her passion for learning with young minds. She is currently working on publishing her first children's book and cannot wait to share it with you all!
Grade One: Veronicalee Adams
Veronicalee Adams is very excited to be back teaching in Canada. She has spent the last two years teaching Grade One in London, England and has found her teaching experience abroad very rewarding. She is originally from Salisbury, New Brunswick, where she discovered her undeniable passion for teaching during her Grade Twelve Co-op experience reading to children at the elementary school. Veronicalee completed a Bachelor of Arts from the University of NB, double majoring in English and Sociology with a minor in History. Her Bachelor of Education is also from UNB, where she specialized in Elementary Education and Teaching English as a Second Language. Veronicalee also has a deep passion for travelling; she has explored 14 countries so far and cannot wait to experience more of the world's architecture, history and culture.
Grade Two: Destiny Franco
Destiny Franco is originally from Edmonton, where she completed her Bachelor of Education degree at the University of Alberta. In 2009, she moved to London, England to pursue her dream of teaching and travelling abroad. In 2012, she obtained her Masters in Applied Linguistics and Language Acquisition from the University of Oxford, researching how children acquire communicative and academic proficiency with English as an additional language. After moving back home, fuelled by a passion for research in action, Destiny independently founded her very own private, co-educational Preschool and Junior Kindergarten. In July 2015, she sold her school to pursue a new challenge and diversified teaching experience in Toronto, including teaching Grade Two at Upper Canada College. Destiny loves travelling, keeping active, and doing embroidery. She is looking forward to her first year at Fieldstone!
Grade Four & Student Excellence Coordinator: Sarah Marcantonio
Sarah Marcantonio studied at LaTrobe University in Melbourne, Australia and was honoured with the graduate diploma in education for the primary sector. Sarah then pursued her path in education in London, England and found her place as a specialist teacher educating children with specific learning difficulties, which focused on students diagnosed with dyslexia and dyspraxia. After five years in London, Sarah finally returned home to Toronto to begin her pursuit in the special needs field and now finds herself at Fieldstone Day School working as the Student Excellence Coordinator for JK to Grade Eight as well as the Grade Four homeroom teacher. In her spare time, Sarah enjoys discovering new and exciting countries, practising yoga and spending precious time with family and friends.
Grade Five: Luxmy Yogesparan
Luxmy Yogesparan was born and raised in scenic Calgary, Alberta. She was inspired by the numerous supportive teachers throughout her schooling to become a teacher herself. She completed her Bachelor of Education in the Primary/Junior Divisions with a minor in Mathematics at Mount Royal University. Luxmy has been tutoring students at an afterschool math and reading centre for the past six years. She recently moved to the beautiful city of Toronto to be closer to her family and friends. In her free time, Luxmy enjoys exploring the big outdoors, travelling around different cities, listening to music, and eating popcorn.
Grade Six: Zoe Metz
Ms. Zoe Metz graduated with a Bachelor of Education degree from Charles Stuart University in 2012, and has been working in the private education field ever since. Ms. Metz is most looking forward to creating lasting relationships with students and parents, and enhancing the learning experience for every student she encounters. In her spare time, Ms. Metz enjoys being with her family, especially her 18-month old daughter. She also enjoys yoga, travel, and the outdoors.
Grade Seven & Eight Science: Natan Bekit
Natan Bekit received a Bachelor's degree in Biology and a Bachelor of Education from York University. He is a passionate and dedicated teacher whose goal is to enable students to reach high levels of achievement and to acquire the knowledge, skills, and values they need to become responsible citizens. He is well known for being a caring, responsible, creative, patient and goal-oriented person with good interpersonal skills. Natan is very excited to get to know and work with Fieldstone's students and parents. When he is not in the classroom, Natan enjoys traveling, spending time with his family and friends, and playing basketball!
Grade Seven & Eight English and History/Geography: Nicholas Blasiak
Nicholas Blasiak hails from the west end of Toronto in a vibrant burrow called Roncesvalles. All his life he has been surrounded by the multiple disciplines of the arts, competitive sports programs, and a passionate community dedicated to providing enriching and educational experiences for those who called it "home". As a summer camp counsellor at Camp Couchiching, he discovered his passion for instruction and dedication to fostering creativity, curiosity, and compassion within the next generations. Nicholas received a Bachelor of Arts as well as a Bachelor of Education from Brock University. Nicholas enjoys spending time with his family, playing as much hockey (or any other sport for that matter) as humanly possible, and devouring the best of today's television, music, films and literature. Nicholas is very excited to be teaching at Fieldstone.
Arts: Devon Henderson
Devon was born and raised in Montreal, with her second language being French. She attended Dawson College for a Graphic Design program and then worked for several years as an architectural illustrator. Devon then pursed and completed a BA in General Arts and Sciences from Laurier University, an Honours Fine Arts BA Degree from the University of Guelph, and finally her Bachelor of Education from Western University.
Devon's paintings have been sold nationally and internationally. She is also a singer and songwriter, playing guitar and piano with a duo called "Henderson and Hemmerling." Several of her songs play on radio stations nationally and internationally. The most popular of these are "Devil at My Door", "This Old Train" and "Easy Love". Devon has three grown sons and is currently engaged to be married next summer.
French: Mina Kovacevic
Mina Kovacevic graduated from the University of Ottawa with a Consecutive Bachelor of Education and she also has an undergraduate degree from Glendon College, York University with a major in French/English translation and a minor in Hispanic Studies. She is currently completing her TEFL (Teaching English as a Foreign Language) certification. Over the past 5 years, Mina has worked with students ranging from Kindergarten to University in both academic and athletic settings, which taught her to be flexible, keep an open mind, and never stop learning for herself because she believes that the learning process is mutual between students and teachers. Other than teaching, languages and reading are Mina's biggest passions. She speaks six languages (French, English, Serbian, Spanish, Polish and Italian) and would love to learn at least two more, and she runs through more books than she does through miles on a treadmill in a week!
Physical Education: Amanda Davidson
Amanda Davidson is a Toronto native. A two-sport NCAA scholarship athlete in soccer and basketball, she attended Alcorn State University in Mississippi (a Division One school). She earned a Bachelor of Science in Health Physical Education and Recreation. Amanda also earned her Master of Science in Secondary Education, with an endorsement in Athletic Administration and Coaching. She has two years of teaching experience from Arizona, USA. Her favourite foods are tacos and spaghetti and she is obsessed with Spider-Man.
Music: Katherine Peter
Ms. Peter is a spirited violinist who brings solo and chamber ensemble music to communities across Canada. She most recently completed her Master of Music in Performance Violin from the University of Toronto, and previously finished her Bachelor of Music at McGill University. Ms. Peter has performed in distinguished places such as Koerner Hall, Glenn Gould Studio, and Maison Symphonique. She is a multiple gold medalist of the Contemporary Showcase Festival and Kiwanis Festival, where she has competed in both violin and piano categories. Having started violin at the age of four, Ms. Peter believes ensemble music is essential at any age, and focuses on finding the unique joy of orchestral performance. As a private teacher, Ms. Peter also guides students of all ages through RCM exams and Suzuki repertoire. Outside of class, Ms. Peter loves cooking, yoga, and her two sheepdogs.